Music Ministry for Children
One of the greatest problems facing churches today is how to make a child's spiritual life personal and not just a product of their parent's influence. Many children start to feel that church is not relevant as they move into Middle School and High School. Peer pressure and outside activities serve to make it difficult in today's age to impress our children with their need for Christ. One way to combat this is to provide opportunities for Christian Service where the child is discipled by mature Christians and feels that they are a part of the corporate worship and not just a spectator. A Music Ministry for Children supplies the perfect opportunity to address all these needs.
Developing a Children's Music Ministry
A little over six years ago, I was asked to take over our Children's Music Ministry at church. At that time, the Children's Choir consisted of about ten kids. Most of them were the children of Adult Choir members, needing supervision during their parent's practices. My own children were part of the music program, but I confess, my motivation for taking them was to give them an opportunity to have "music class". I homeschooled my kids and had absolutely no musical talent to pass along to them.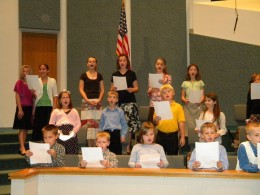 The appointment came quite by accident. One of my boys acted up during choir and I decided to sit in on their practice. In an effort to be "nice", I volunteered to help with crowd control each week until the Summer Break. A couple of weeks later, our brand new Music Minister, who didn't know me very well, approached me and told that the Children's Choir Director had left the church and he needed me to take over.
Ironically, I don't sing, or play an instrument. Not once in my life have I ever been in a school choir or taken a music lesson. I could find Middle C on the piano, but that summed up my musical knowledge. What I was really good at was wrangling children and organizing. After a lot of soul searching and conversations on my knees, I finally agreed to at least finish out the school year as the new Children's Choir Director.
Through His strength, not our own! Right?
Where to Start?
Immediately, the organizer in me started thinking of ways to improve the Children's Music Ministry. Not knowing anything about music, it never once occurred to me that any of my ideas were too "advanced" for the kids or that we might fail in what I wanted to do. I just jumped in with both feet.
First, I found helpers that knew something about music and then we separated the program into three age groups:
The Preschool Choir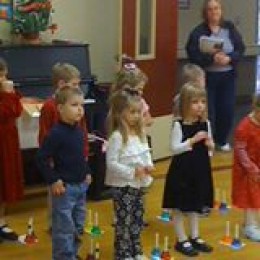 One of the major components of our Children's Music Ministry is the Preschool Choir. This particular choir is for children, ages 3 to 6 yrs. A 6 yr old kindergarten student can participate with this group or in the Junior Choir. We leave that decision to the parents. The goals for the Preschool Choir are to learn the basics of music theory, proper stage presence, and learning to sing God-honoring music in unison. This choir spends 30 minutes singing and 30 minutes on instruments. We have a wide variety of rhythm instruments and also a set of 8-note handbells. The children ring their bells using the color-card system. The Director holds up color-coded cards as the song plays and when their color appears, the child rings their bell until the card is put down.
Most of the songs are hymns. The children learn to recognize visual playing cues and hear melodies and harmonies. This choir sings and plays their bells during Worship Service four times a year. One of those performances is a short Christmas Program.
The Junior Choir
The Junior Choir is for those in 1st thru 3rd grade. Taking into account the age distribution of any given year, the difficulty of the music might change from year to year. Normally, the Junior Choir works on unison pieces with descant, rounds, music theory, and instrumental music in the form of handbells.
They kids are taught to play melody and harmony while reading color coded musical scores. We use an 8-Note set of handbells and mark their music according to the color of their bell. Each child is responsible for following their own music and ringing at the appropriate time. First graders are often given an older teen helper as a "pointer" until the get the hang of following the notes. Initially, the ringers will play melody with an accompaniment track. As they mature, the group takes on pieces with melody and chords. If able, the older children are assigned two bells while the younger ones play one.
The Advanced Children's Choir
The Advanced Children's Choir is for those children in 4th through 7th grades. After the 7th grade, the kids are encouraged to join the Adult Choir or Adult Orchestra depending on their strengths and interests. This group works on more complicated vocal music and begins learning how to sing harmony, utilizing the parts of soprano and alto. The Advanced Choir actively participates in the Sunday Night Family Worship Service and has traveled outside the church as a form of outreach.
Many of the older kids participating in our Children's Music Ministry are part of their school choirs, bands, and orchestras. We recognized the need of these children to use their secular talents at church so that the two parts of their life were not separate. This year we started a junior orchestra for 5th – 7th grades. The kids play hymn arrangements once a month during the Sunday evening service.
The interesting thing is that these performances by our 5th-7th grade orchestra sound infinitely better than the school concerts I have endured. The extra practice and the one on one attention that they receive from our mentoring adults has helped improve their talents. In addition, each of the kids that have participated is faithful to practice and to church attendance.
The ultimate goal for all the different components of our Children's Music Ministry is to teach our children that the skills and talents they were given should be used for the glory of God. We do our best to encourage them to develop those talents to their full potential and use them in reaching others and serving the church.
Piano as Part of the Music Ministry
Do you have young adults or teens that play the piano? Or another instrument? You might consider setting up a mentoring program.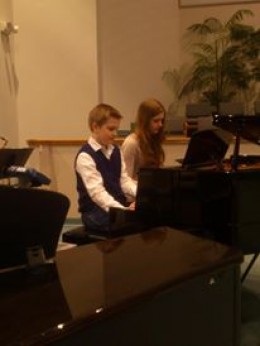 Having the older teach the younger is a very Biblical concept and in this instance can be a huge blessing to everyone!
The way this program works, our piano-playing teenagers offer free piano lessons for one school year to all brand-new students. We have found that it is best to make 7 years old the minimum starting age. After that first year, any continuing students are charged $5.00 a lesson which goes to the teacher. This saves parents an enormous amount of money and it is a good income for the teacher. There are not many $10/hr jobs for teenagers out there that allow them to set their own schedules.
Benefits of The Piano Program
Since the Children's Music Program operates through the church, an emphasis on sacred music can be made. The children play in front of Sunday School classes or in Children's Church. This teaches them from the beginning that their music functions as a service ministry. The free year of piano lessons also allows the teenager to spearhead their own ministry within the church.
An added benefit to this is that the kids are learning to read music which helps them in both school and as members of the Children's Music Ministry at church. It also give the teenage instructors a resume in case they wish to pursue a career as a private music instructor.
This program has been a huge success for us!
The Drama Program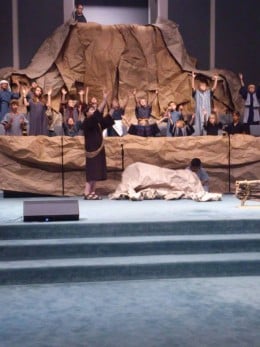 Our choir season runs concurrent with the school year. We have found that many of our children (and parents) need a break from the weekly commitment of choir practice. A fun alternative to our regular Children's Music Ministry is our Summer Musical.
This past August we performed "Elijah" by Mark Patterson.
Thirty-three kids from age 6 yrs – 7th grade, practiced for three months and performed the 40 minute production as a kick-off to the new school year. The entire budget for the production was $300.
Scripts & Performance CD — $100
Set Design and Props — $50
Costumes — $100
Pizza Party — $50

The set was divided into three parts: the widow's home, Mt. Carmel, and Ahab's palace. The mountain was made entirely from brown paper purchased at Home Depot for $13/roll. It took two rolls to fashion a 20 ft x 30 ft mountain. The remaining $24 in the scenery budget went for plywood to fashion Ahab's and Jezebel's throne. The rest of the props and items were borrowed from parishioners.
Costumes were robes made from donated sheets and tablecloths. King Ahab's and Jezebel's costumes were "borrowed" from the Christmas Nativity at the church.
Despite one line flub and an ad-lib by Ahab, the production was a huge success. The beauty of it all is that the kid's learned more than drama skills. They now carry a greater understanding of the truths behind the confrontation between Elijah and the Prophets of Baal.
Children's Musicals
Click on the picture to see the details on the Children's Musical, Elijah.
Musical Dramas for Kids
If you are looking for a children's drama, you might also consider one of these. All have been performed by our Children's Music Ministry and were a lot of fun:
Christmas Messiah for Young Voices: Unison and Two-Part Arrangements Based on the Messiah by G. F. Handel
The Kashmir Kid
Kung Phooey Kid
Malice in the Palace
Light of the World -Children's Musical Book
 (Christmas)
Recommended 2-part Music for Children's Choirs.